Bath Addition – Upper Black Eddy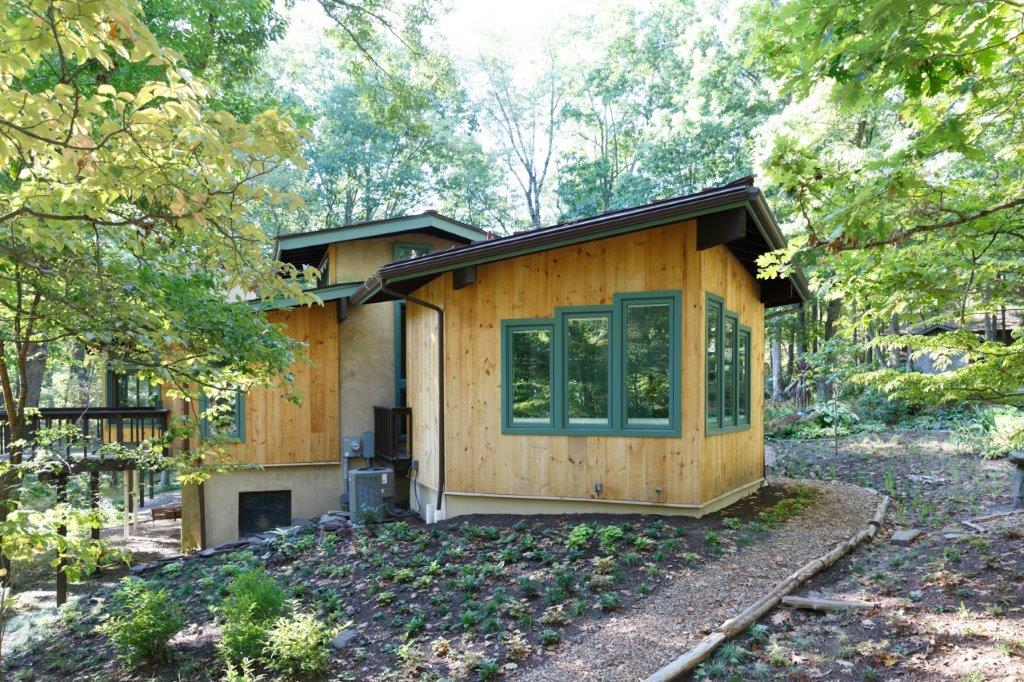 The existing master bedroom and bath area were cosmetically updated with paint over the years, but no significant improvement to windows, insulation or the floor plan were undertaken in the 40plus years the couple lived in it. When the owners built the house, they were starting their careers and a family. The space had an interesting contemporary design, but the young couple kept things simple, and the budget small.
The plumbing fixtures were functional, but basic. The space featured a tub with hand-held shower; one vanity and a toilet, within the master bedroom. There was little privacy and no separation between the bathroom areas and the bedroom. A small amount of natural shale around the toilet and bath were the only tiled areas. The sunken tub was difficult to clean, as it required a reach and it was potentially hazardous to enter and exit because it required a step down into the water. The vanity area was adequate, but created a traffic problem when both owners needed the sink. The couple shared one closet.
Before
The resulting spa space is anything but basic. Design choices in the architecture seamlessly unite the existing lines and cathedral ceilings of the original. The use of natural fir beams and trim also match the original house design to tie the old and new together.
Bold use of color makes cabinetry pop against natural tile and stone textures, and evokes the forest outside. The new windows and skylights flood the space with natural light and the clients note how much they love the play of light and shadow in the space at different times of day. The warm contemporary design is show stopping.
The functionality of the space meets the client's current and future needs by providing appropriate space for mobility assist devices, blocking for hand holds or grab bars, and ample ambient and task lighting. Eased edges and rounded corners on vanities will prevent bumping into sharp edges. Lighting along hallway and up lighting light nighttime pathways. Entries were designed without thresholds, and textured, heated tile floors ensure non-slip flooring, even in wet areas. Additional space is ready for laundry appliances when needed.
After