REMODELING Magazine's Annual
Big50 Award
Joe Billingham has been honored as a National Winner of the Big 50 Award. One of the most prestigious National Awards in the Contracting Industry: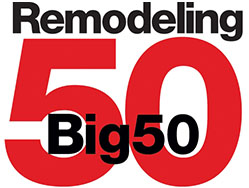 The Big50 is a remodeling business excellence award for best practices. Every May, REMODELING inducts 50 new companies who have set the standard for professionalism and integrity through smart marketing, exemplary business practices, unique design, and extraordinary impact on their community or the industry at large. Big50 remodelers run successful, growing companies of various sizes that have taken the lead in raising the standards of the industry. To date, more than 1,000 remodelers who have demonstrated such excellence can boast being a member of the Big50.
Nominations
The selection process begins in November and December, when we ask all of our editors and columnists for nominations. We also ask for suggestions from the leadership of NARI and the NAHB Remodelers Council, along with leaders in larger chapters of these associations. Typically, these sources generate an initial list of about 300 names.
We also include the names of remodelers who have, in effect, nominated themselves over the course of preceding years. Typically, these companies have already sent us the kind of information about their firms that we eventually seek from all nominees. The kinds of materials we like to see include clippings about special projects or community-based efforts they're involved in; distinctive marketing or presentation materials they use with clients; descriptions of unique internal management systems and sample forms; and photos of their work (especially if they want to be considered for the design category). Most important, nominees provide a paragraph or two explaining why their firm is different, why their approach to doing business is better, and how our readers can learn from their company. Many also include references and testimonials from fellow business people and other remodelers.