Master Certified Remodeler (MCR)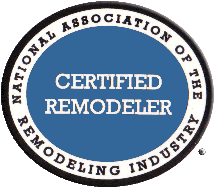 Joe Billingham is recognized by the National Association of the Remodeling Industry as a Master Certified Remodeler. There are only a few individuals in the Nation that have achieved this level of certification.

This designation recognizes Certified Remodelers that have demonstrated commitment to the remodeling industry through support of their local chapter, NARI National, and/or their local community.  The MCR identifies Certified Remodelers that have withstood the test of time and continue to be successful within the industry.
To qualify for the MCR designation, applicants must meet all of the following:
Be primarily engaged in remodeling
Hold the Certified Remodeler designation for a minimum of ten consecutive years
Hold another NARI Certification (CKBR, GCP, CLC or UDCR)
Adhere to NARI's Standards of Practice and Code of Ethics
Must have been involved with their local NARI Chapter (committee, board member, or officer) and/ or involvement as a leader in their local community (city council member, school board, church officer, etc.)
Letter of recommendation from their chapter executive or chapter president or three letters of recommendation from recent clients
Successfully complete a comprehensive application that details their background and experience